China's Belt and Road Initiative – Prospects and Pitfalls
Chinese President Xi Jinping initially mooted the idea of Silk Road Economic Belt (SREB) and 21st century Maritime Silk Road (MSR) during his visits to Kazakhstan and Indonesia in September and October, 2013, respectively. Subsequently, the two projects together came to be known as 'One Belt One Road' (OBOR) Initiative. The Concept was re-christened as ''Belt and Road Initiative'' (BRI) when opposition surfaced to the idea of one nation dictating the existence of 'one belt, one road' in a globalised world in which 'many belts and many roads' exist.
Prospects –
China can hope to spur growth in the short term, gain access to valuable natural resources in the mid-term and create new booming markets for its goods into the extended future.
China's inability to fully absorb its supply-side production capacity — the problem of under-absorption, therefore, BRI becomes crucial for this motive. It wants to consolidate its position at the centre of global supply and manufacturing networks.
China understands that as its economy matures and income levels rise, the lower-wage industries that have fuelled the country's growth so far will migrate to less-developed nations where labour costs are lower.
Beijing hopes its transnational infrastructure building program will spur growth in China's underdeveloped hinterland and rustbelt and provide employment opportunities to the youth of this region.
By investing in infrastructure, Xi hopes to find a more profitable home for China's vast foreign-exchange reserves, most of which are in low-interest-bearing American government securities.
Many scholars view it as Beijing's attempt to gain political leverage over its neighbours and to rapidly fill the vacuum created by the increasingly isolationist West.
Beijing plans for China-led financial institutions to lend money to countries willing to participate in BRI to create the required infrastructure, deploy the surplus Chinese manpower to build them and ensure that China's hitherto idle state-owned enterprises construct them.
Pitfalls –
China will need its neighbours' cooperation for realisation of its objectives. However, its handling of regional antagonism in recent years has further exacerbated tensions in the area.
The BRI vision statement claims "Principles of Peaceful Coexistence" which include a "mutual respect for each other's sovereignty." Contrary to this, China has escalated sovereignty disputes by pressing territorial claims against its neighbours.
China has shown total contempt for international law by rejecting the ruling of the UN tribunal regarding its claims in the South China Sea. These actions directly contradict the BRI vision statement and send a signal to China's neighbours that it will aggressively use its instruments of power to assert claims over disputed territories.
Conclusion –
Several analysts have expressed concern that smaller states could become overly dependent on Chinese loans and trapped in debt servitude to Beijing. To make matters worse, China is finding it hard to identify profitable projects in many belt-and-road countries
Let us trace the Nine Dash Line and have a look at the various geographical entities around.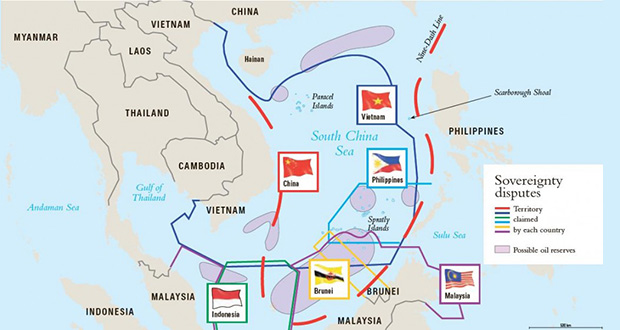 Question:  India has shied away from being a part of China's Belt and Road initiative. Examine the prospects and pitfalls attached to the BRI of China. Is it a euphemism of neo-colonialist policies of China?